There are at least two different issues here. One of them is particular to Whitenoise Recorder, and another, which primarily affects the Cyanphase and CnG recorders, seems to have something to do with the Buzz wavetable GUI.

I use Whitenoise Recorder often for wavetable feedback (simultaneously recording to and playing from the same wavetable slot), which doesn't work with the other recorders, because they reallocate/clear the wave with each pass. Unfortunately, Whitenoise Recorder will crash while repeatedly recording to a wavetable slot when AccurateBPM is turned on in the Buzz settings. I assume this is because the length of the recording interval changes by a sample or two when Buzz keeps the BPM sample-accurate, so the recorder ends up trying to write to a position that doesn't exist. You can fix this easily enough by setting AccurateBPM to False, but I've found that you still have to be careful with this machine. Stopping the song mid-pattern while recording for instance could cause a crash, so I usually wait for recording to finish before hitting stop or save. It also crashed a couple times at 500BPM/32TPB while testing just now, but it took a lot of fooling around, and I couldn't figure out any pattern.

The other recorders seemed to crash in a different way. For me, it seemed to happen most often while switching between the different views, navigating the Buzz menu, or (most often) while changing the theme. Even at low BPMs, changing the Buzz theme would cause a crash while using CnG Recorder, but Whitenoise Recorder seems to have no trouble with this even at 500BPM/32TPB. A few times one of them would produce an actual error dialog when crashing (example below), which always had to do with BuzzGUI.WaveformControl, so the problem seems to have something to do with the GUI in the Buzz wavetable view. My guess is that because the Cyanphase and CnG machines keep reallocating the waves, the wavetable editor is updating when some part of the Buzz GUI is not expecting it to. Incidentally, you don't actually have to be in the wavetable view for the crash to happen, and it can happen even if you've switched to the old wavetable (by hitting Ctrl-W in the wavetable view).

So I guess the most stable solution for now would be to try using Whitenoise Recorder with AccurateBPM turned off, but even that's not perfect. It doesn't do stereo, for instance, and it can still crash if you interrupt the song while recording. Otherwise, maybe Oskari (or Antonio?) can see if there's some change in the wavetable code that will fix the GUI-related crashes.
Attachments:
File comment: Example error dialog for a CnG Recorder crash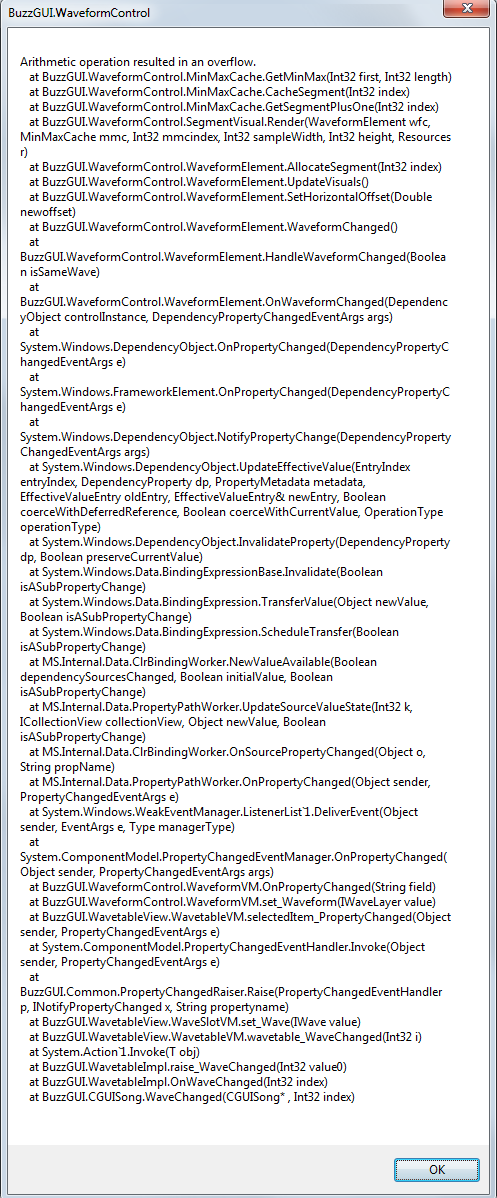 buzz_wave_recorder_crash.png [ 76.1 KiB | Viewed 2428 times ]