Got this thing working in buzz. I had an FCB-1010 and really didn't like it. It had a dead zone at the base of the pedal, and was just generally uninspiring to play. So I went over to this roland fc-300. I'm really happy with it. The pedals are very solidly constructed, and it's much easier to program because it has buttons. It can do pretty much anything. I'm using it with peer state to do mass tone changes in my effects.
Using BTDsys Peerstate you can use a midi note to trigger a parameter change in as many parameters in as many machines as you want, and do it with inertia so they slowly morph into each other. It's utterly insane honestly, especially if you compare it to what you'd have to do with a pedal board to accomplish something similar.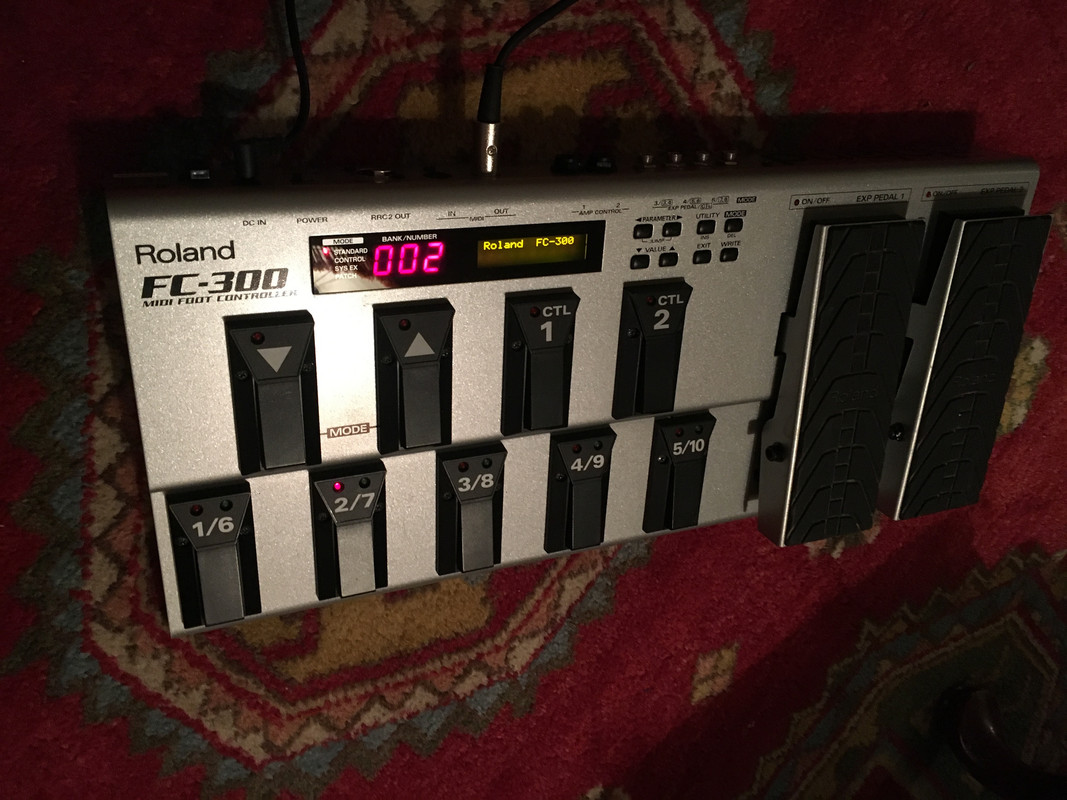 Buzz is a tracker, but no one ever talks about how, if you use polac asio drivers, it becomes the most incredible host for live digital effects. As low latency as you care to make it (cpu cost), as high a sample rate as you care to achieve (cpu cost). If you're already buying digital effects, why pay for all those tiny shitty microprocessors when you could get one reeeeealy nice microprocessor and run everything through it?
Even if you never touch the tracker or the sequencer, you could just use it as a super hi-fi multi effects, and I think it's the most intuitive that you could imagine because... it has CABLES!!! We love cables.
Anyways super happy with the Roland fc-300 in buzz.
Althoooooooough, I bought it used and the owner listed it's condition as "excellent" but they had spilled a whole drink in the dang thing!
It made a sound like walking on a sticky floor if you put any pressure on it anywhere. Turns out the whole thing was full of coka-cola an cat hair. No joke.
I had to completely disassemble it to the point that there was nothing left in the chassis in order to get all the coka-cola out. Luckily I'm a professional electronics assembler, so it wasn't intimidating. Single dirtiest item I have ever bought online. Now it is nice and clean and MINE. Plus I got to see all the internal bibs and bobs.