Joachip wrote:
What limit? I have 8 logical cores here, and Windows 7 and 10 are both capable of seeing all of them. It's Buzz that has a limit of 12 cores: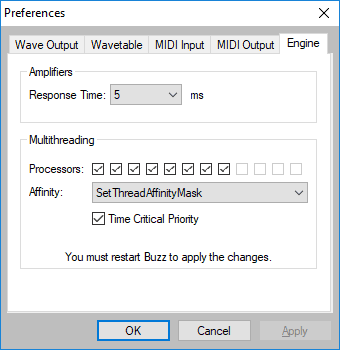 And typically the real problem will be that one plugin cannot be distributed across several cores, so the per-core performance is still very important for audio work.
Yes, but see:
http://buzzwiki.robotplanet.dk/index.ph ... uring_Buzz
" ...Select the Processors that Buzz should use
Multithreading: Affinity
SetThreadAffinityMask Sets a processor affinity mask for the specified thread. A thread affinity mask is a bit vector in which each bit represents a logical processor that a thread is allowed to run on.
SetThreadIdealProcessor Sets a preferred processor for a thread. The system schedules threads on their preferred processors whenever possible.
On a system with more than 64 processors
, this function sets the preferred processor to a logical processor in the processor group to which the calling thread is assigned. ..."
Perhaps, it is rather matter of displaying all cores?
With the new
Ryzen3000
you can buy on 7.7.19, e.g. the Ryzen 3900, the IPC and CPU clock has improved a lot, so the single core performance is much better now. Also the Level3 cache is huge now, promising low latencies
At least if you can afford it
I think, to exploit all power of newer processors the Buzz core has to be reprogrammed for the newer CPU-instructions like AVX2 and AVX512 ?
Does anybody know about the latest supported CPU instructions generation?