Doggone it. There it is!
I should have checked the "old-school/FT2" section of that manual. Apparently "
.. 1080
" in pvst is the same as "
30 80
" in matilde tracker. Yes, you have to leave the Track Command column empty it seems. I hadn't figured out there were commands hidden in the value column. In case I'm not the only one who hasn't discovered this, here's an example of how to randomize an external MIDI instrument or a VST: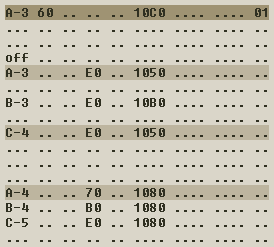 1030 = "play note in only rare cases"
1080 = "play in 50% of all cases"
10D0 = "play the note almost every time"